News
07.03.18 Mother's Day - Gwesty Tŷ Newydd
Bring your Morther to Ty Newydd this Sunday to celebrate Mother's Day - Carvery will be served between 12pm and 2.30. Phone now to book a table - 01758760207
www.gwesty-tynewydd.co.uk
---
11.08.16 Sacred Land Conference at Manaros
The Sacred Land Conference is being held at Manaros, Aberdaron from Friday the 7th to Sunday the 9th of October 2016. Find out more about the enchanted landscape of Pen Llyn and how it is guided and connected to the life of the Earth's great story. We have 3 fantastic speakers – Martin Palmer (BBC broadcaster and author), Mary Colwell (film producer in nature and the environment) and Dafydd Hughes-Davies from the Felin Uchaf centre at Rhoshirwaun.
Residential and day bookings available. Call us on 01758 760 652 for more information.
---
25.05.16 Llŷn Coastal Bus
The Llŷn Coastal Bus will be running until the end of October 2016.
Click here for more information
---
23.05.16 Aberdaron: Cutting edge technology at the edge of the Llŷn
Aberdaron has been selected by Arloesi Gwynedd Wledig to pilot how to bring public access Wi-Fi to remote and rural communities.
Click here to read the press release
---
29.07.15 Race
Wednesday July 29th 7pm (register from 6:30pm)

Coffee Evening to follow in the hall from 7:30pm.

Entry fee £3 for children and £7 for adults

Coffee Evening - free entry. Cake and cup of tea for £1.
Any profit goes towards Urdd Aberdaron and Rhiw.
---
28.07.15 Aberdaron Playground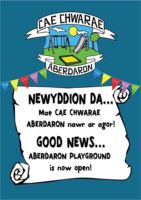 Good News ... Aberdaron Playground is now open!
---
29.05.15 Defibrillator in the village
Criw Bro Daron have been working hard to raise funds to get a defibrillator for the village. With the help of a British Heart Foundation grant there's now a defibrillator accessible to members of the public on the wall outside the toilets in the car park at Henfaes. The defibrillator is available 24 hours a day and can help save a life in an emergency so it's great news that we now have this device in the village.
---

09.04.15 The puffins have arrived!
The puffins have arrived in Aberdaron on the Gwylan Islands yesterday, about 50 birds, earlier than last year! They left last August and have been bobbing on the Atlantic Ocean all Winter, wonderful little birds.